The PNG Short Passenger Car Kit
Update 2-21-2018
In the next couple of weeks, I will be visiting my old neighbor that helped build many of the machines in the PNG shop. The purpose is to drill all the holes in a sheet of UHMW to create the short passenger car frame jig. As all of you that have built a PNG kit know, a complete frame is included with all kits. It's far easier for me to create a perfectly square frame in my shop than to provide the customer with lumber and a jig and hope for the best.
Here's an example of one of my jigs. This one was used to build the convention car for the 2015 National Garden Railway convention in Denver, CO.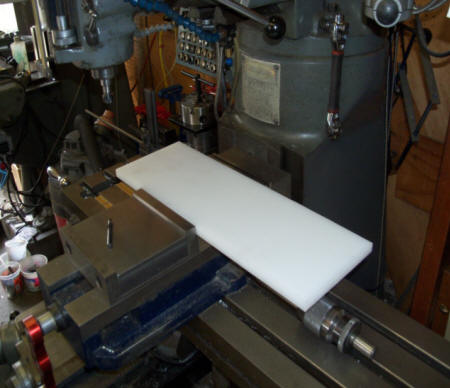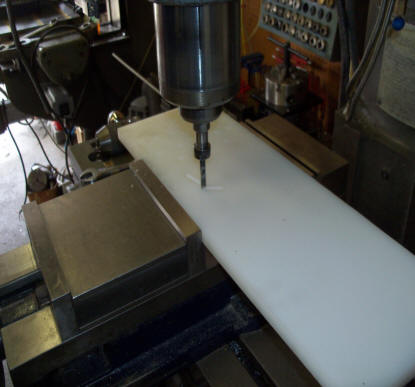 A sheet of UHMW in the vise and getting drilled with a precision .250" drill. I only wish I had room in my shop for this big guy!!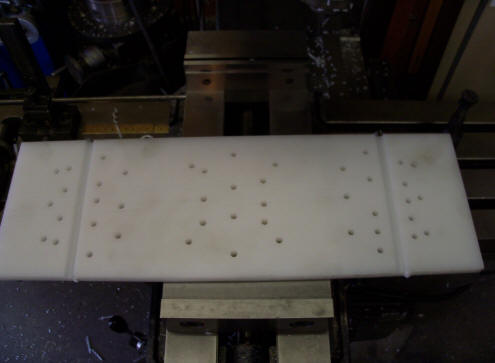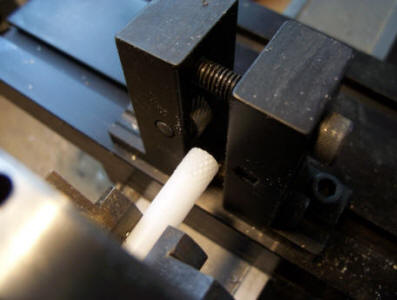 All the holes drilled and a few of the 1/4" Delrin pins needed knurling so I can pull them out easily.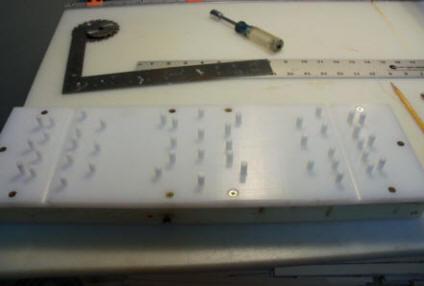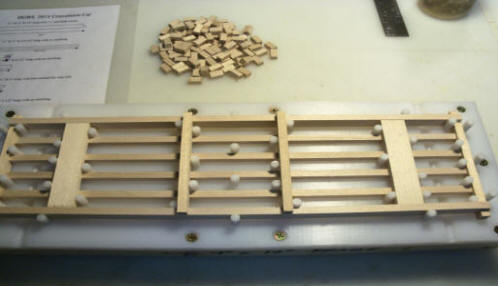 Finished jig with pins inserted. The long groves near each end are for a screwdriver to slide in under the glued and nailed frame to pop it off the pins and free of the jig. The right picture shows all the cut wood pieces laid out in the jig ready to be glued together and nailed with a 20 gauge pin nailer. I will replace these pictures with the actual passenger car pictures once the UHMW is drilled.
I've also been drawing up the CAD for the coach. This is the master CAD that other pieces will be derived from.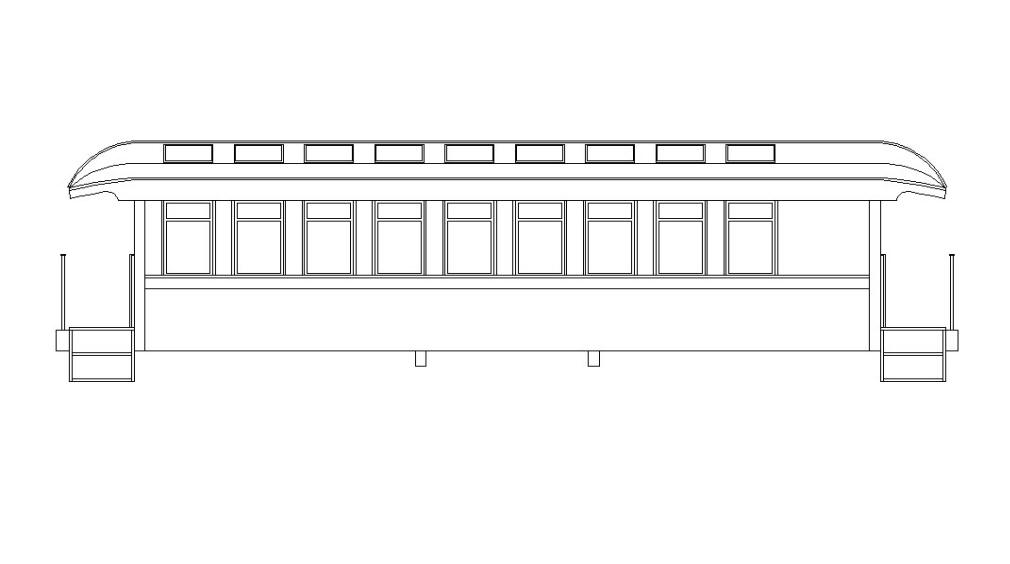 To be perfectly clear about this kit, no narrow gauge railroad had short passenger equipment. This will be a freelance kit. The Sierra Railroad in California has a short coach and combine in standard gauge. They had them made for one of their branch lines that had exceptionally tight radius curves. Pictures of those 2 cars are on the previous page. As drawn, this kit will be 20" long from platform end beam to platform end beam. The real coach had 9 windows so I've done my best to represent that in this kit. I've also made the height and width the same as Accucraft's J&S coach so if they were run with the Accu cars, they would look the same only shorter.
Here's the end drawing of the coach.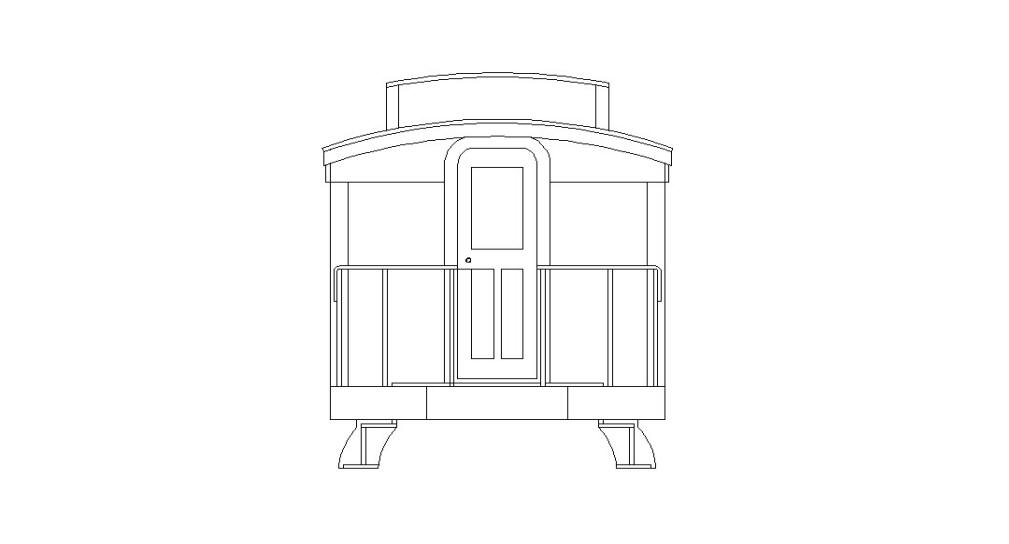 I engineered the cars to use Kadee "E" type of couplers because they are the only coupler out there with enough swing to work with the cars on medium curves. The couplers are the number 906. I will order them from Kadee in the rust color to save us from having to paint them and possibly foul up any moving parts.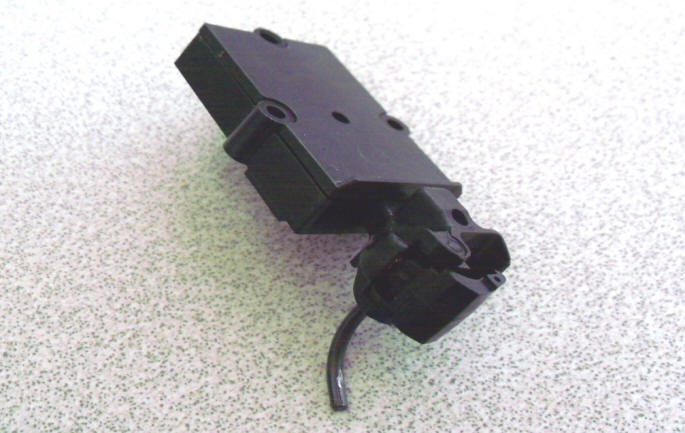 The cars are also engineered for the Aristocraft short passenger trucks. I have several cases of these trucks on hand and they were always planned to be incorporated in these cars.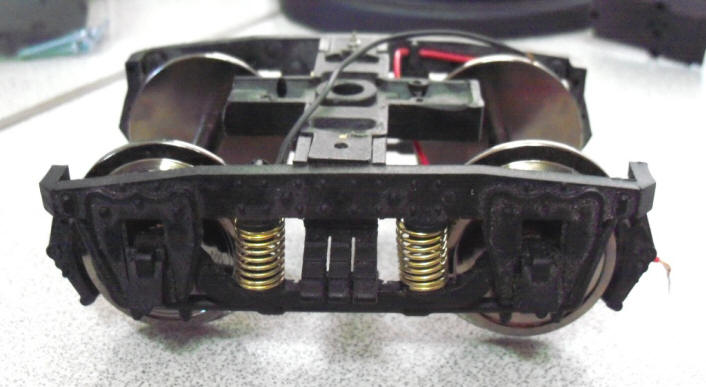 Aristocraft Short Passenger Trucks
As compared to Accucraft J&S trucks.
I expect to have the frame jig completed in the next 30 days and will work on the CAD drawings that will drive the laser so we can get a look at how this will come together. I'm working with Bob Hartford for some 3D parts to use as masters for the roof ends and other white metal parts I don't currently manufacturer. In return for Bob's help, I'm supplying him with some of my PNG parts that he needs. Bob was here in late August and I walked him through my methodology in kit manufacturing and we compared ideas on several items. Always a good thing when we can work together!!
I did have one suggestion from a follower that thought maybe using Trackside Detail brass end handrails would be good. This will be a set of 4 cars. 2 coach, 1 combine and 1 baggage. Using TD's brass rails will add almost $100 to the cost of the 4 kits. What I think I may do is match the post holes in the end beam for the end rails with the same dimensions of the TD holes but supply white metal rails in the kits. If you decide to upgrade to brass, you may do so at your expense. I'm still chewing on seats. But I'm also trying hard to keep the cost in the $650-$700 range for the four kits. Everything I need, trucks, couplers, resin, wood, brass and white metal alloy keep getting more and more expensive.
More to follow .............. soon I hope. If you have any ideas or comments, feel free to shoot me an email. I going to try and make this as open as I can.