Short Passenger Cars
A dozen years ago or more I bought 100 pair of Aristocraft short passenger car trucks. Wasn't 100% sure of what I'd do with them but the deal was to good to pass up. So now, it's time to move them out of my mezzanine and find homes for them. I want to produce short, as in 9 window, passenger cars something like the standard gauge Sierra cars on the Sierra RR in California. While there is no prototype of short cars on any of the narrow gauge railroads, that I know of, I personally could use a few for my live steam 4-4-0 and possibly even on my indoor layout. I've had very positive responses from everyone I've mentioned them to.
So, first thing I did was search on the internet to see what commercial cars are or were produced to get some idea's from.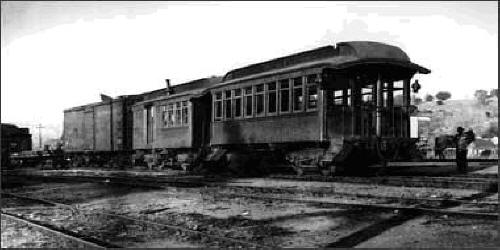 This is a picture of the actual short coach and combine on the Sierra RR. This is what I have in mind but only in a fictitious narrow gauge scheme.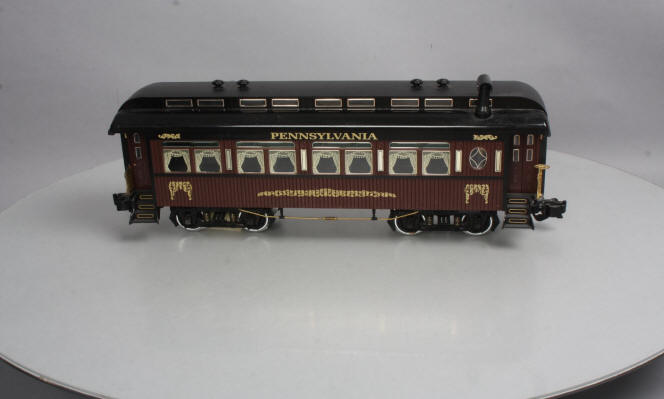 Aristocraft Coach
Aristo Combine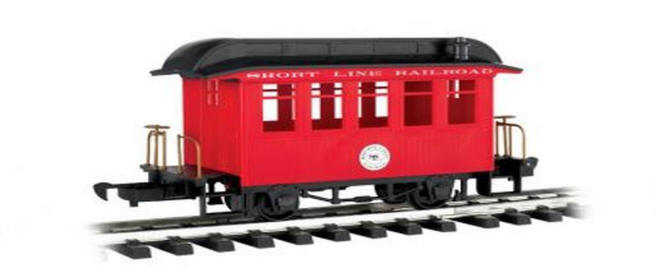 Bachmann's 4 wheel, 5 window coach

Bachmann's 4 wheel coach and combine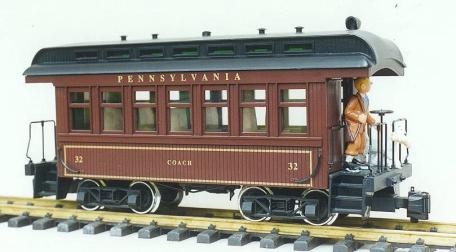 Delton's coach

Delton's combine and coach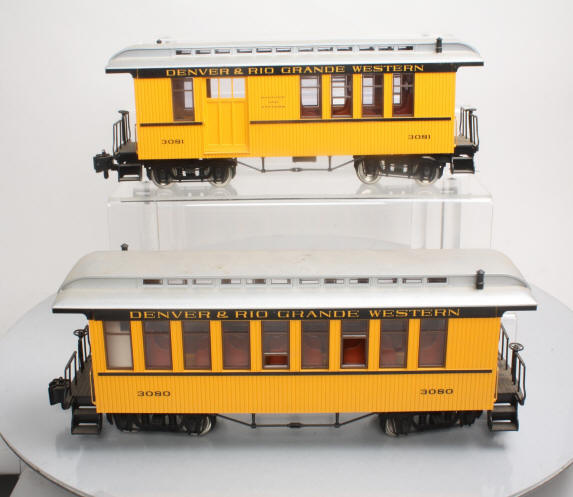 LGB's coach and combine set
Piko's coach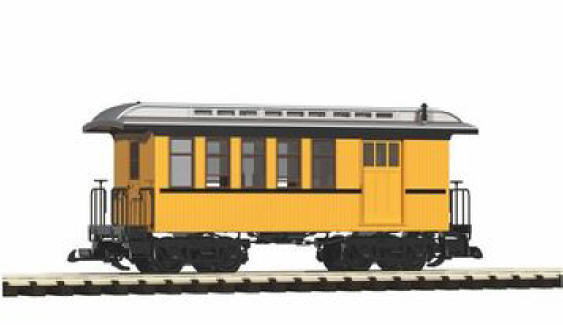 Piko's combine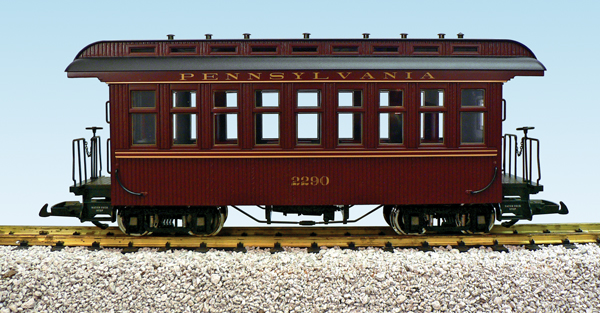 USA's Overton Coach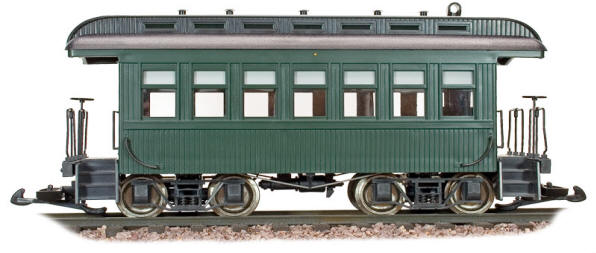 Another USA Coach
Pretty sure only the Bachmann and the Delton were produced in 1:24 scale or something close to 1:24. I believe all the rest were manufactured in 1:29 scale to represent standard gauge. I was never interested in these cars so I could very well be wrong about the scales.
Only the LGB coach was made with 9 windows as the real Sierra coach. LGB left room for bathrooms at each end of the car on opposite sides. I am open to doing that. I've only found a few pictures of the real cars. Older pictures have a stove vent pipe at one end and only one side but best I can tell, no bathroom. More current pictures have one window painted out at one end which I assume that area is now a closed in toilet for tourist. Beings this will be freelanced, I / we can design it any which way we want.
I like the drop corner roof ends that only Bachmann did on their car. The real cars had these roof ends so for me, the kits will have that type of roof end. The cars will also have open ends. Only Aristo designed theirs with the closed vestibule.
I think windows in the clearstory is also a must. Kind of hit and miss on the above cars. But understandable as tooling for the plastic injection is not cheap. I'm open to windows at the ends. If we design the cars to have a bathroom at one end, there wouldn't be a window on the side of the end where the bathroom is. I do not plan to include much detail for the inside of the cars. I might provide seats and I might not. Will depend on how easily they can be made.
So, I have the starting of a CAD drawing for a coach side but nowhere near posting it here yet. I am open to ideas as long as they are reasonable. This is not going to be a diamond plated kit. I've seen several photo sets of private cars modelers have super detailed. Super detailing will be up to you. I can be reached at
phil (at) philsnarrowgauge (dot) com
Go to the "Kit" page for developments
9-30-2017