Please choose one of the above buttons

700 & 800 Series Drop Bottom Gondolas
Both the 700 Series (car 774) and the 800 series (cars 830 & 883) are pictured here. All 3 cars are in a 5 board profile. But both the 700 and 800 cars were built in 4 board and 5 board style. Both 4 board and 5 board equipment still exist today. From the pictures, you can see the differences between the 2 classes is how the ends were built. On the 700 cars, iron straps on both the inside and outside of the car held the corners together. On the 800 cars, a wood post was bolted into the corners. A strap was through bolted from the sides and only carriage bolts and nuts on the ends.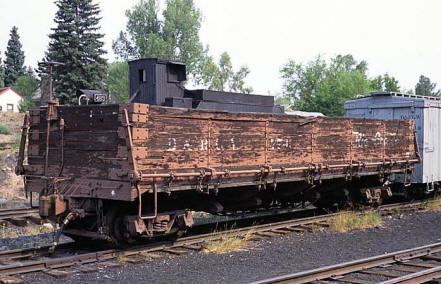 Car #774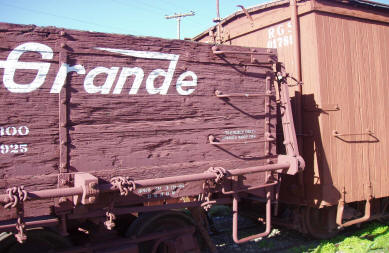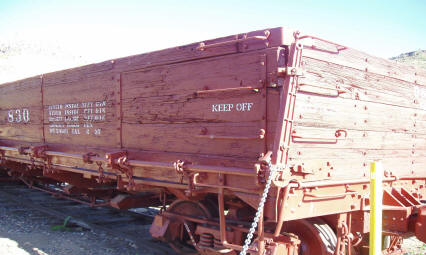 Car #830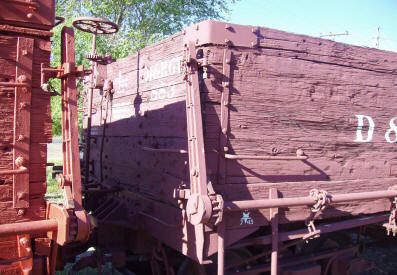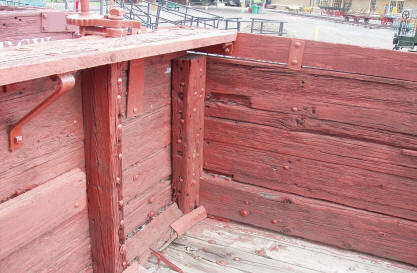 Car #830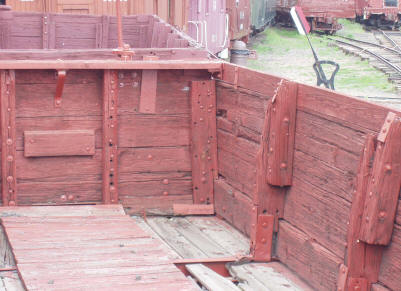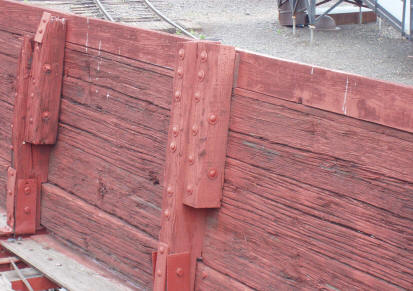 Car #830 with Car #883 behind Extension boards & braces
The last picture of the extension boards and braces is the epitome of the D&RGW RR. One of the braces is more than likely original and the other is a repair. All the empty holes in the post indicates to me that the wood was most likely used somewhere else before finding a home on this car. I think it would be safe to say that there could very well be 100 slightly different 700 cars and 100 slightly different 800 cars. All depends on any repairs done and more importantly, where that repair took place.
From the above choices you can view the PNG versions of the 4 board 700 car and the 5 board 800 car. Also is a button to follow the development of the 700 car from Don Winters modest kit.